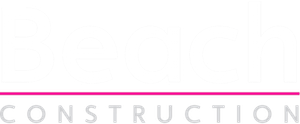 As a family owned business, established over 25 years ago, Beach Construction has earned a strong reputation for delivering a high standard of build quality, design and implementation.
From extensions, loft conversions, refurbishments, restorations and listed building work through to large scale commercial projects, we are committed to delivering innovative and quality building solutions for our clients.
Our core values ensure we deliver high quality workmanship, fair pricing and a caring and professional customer service enabling us to generate a large proportion of our new business through client recommendations.
Through producing high quality work and a large amount of client recommendations our proven skills across private and public projects include:
New builds | Refurbishments & Renovations | Alterations & Repairs | Full Project Management
Loft conversions | Extensions | Kitchens | Bathrooms | Roofing
Carpentry & Joinery | Plastering | Electrical | Plumbing | Tiling & Amtico Flooring | Painting & Decorating
Hard Landscaping | Garden & Boundary walls | Patios | Fencing & Decking
Insurance work | Shop fitting | Commercial projects for private & public sector
Free Quotations & Advice
Serving Berkshire, Buckinghamshire and surrounding areas, including:
Datchet | Windsor | Eton | Old Windsor | Egham | Staines | Maidenhead | Ascot | Sunningdale | Bracknell
Established over 25 years ago,
Beach Construction
is a family owned company based in Datchet, Berkshire. We deliver all aspects of construction across Berkshire, Buckinghamshire and surrounding areas including Datchet, Windsor, Eton, Old Windsor, Egham, Staines, Maidenhead, Ascot, Sunningdale and Bracknell.
We pride ourselves on our helpful and friendly approach, quality workmanship and attention to detail.
To achieve these standards, everything we do is built on a foundation of openness and trust, ensuring that every project is meticulously planned and executed on time and on budget. Our team of highly skilled craftsmen including Bricklayers, Carpenters, Roofers, Plasterers, Gas Safe registered Plumbers and Certified Electricians, all with many years' experience, earn the company a strong and deserved reputation for the highest standards of quality and service.
By forging strong trading relationships with local suppliers, sub-contractors and merchants we are able to pass on extremely competitive rates to all our customers.
Testimonials
Beach Construction
has built a business based on reputation in and around Datchet and Windsor, and our client satisfaction is paramount to us. We often find our customers are so pleased with our work that they are keen to recommend us on to others.
Take a look at some of our recent client testimonials:
"Living in a period property in the centre of Windsor we were keen to stay in such a prime location but were struggling for space so our best solution was a loft conversion. We were apprehensive about having a loft conversion in a period property but Darren soon put our minds at rest right from the planning stages through to completion.
We were kept informed at every stage and always felt our opinions mattered. The conversion has been done sympathetically and greatly enhances our existing living space. We were delighted with our loft conversion and were particularly impressed with the quality and efficiency of the work undertaken and how."
– Alan, Datchet
"Darren and his team did a fantastic job of our extension and garage conversion. The standard of work was high quality and the project was completed on time and on budget. His approach is flexible and he is very hands on.
"We wouldn't hesitate to recommend him."
– Lucy, Oxford Road, Windsor
"We couldn't be happier with the final result of our kitchen and bathroom extension. Darren and his team worked hard and extremely efficiently, created no fuss in what was a tricky job, kept us informed about progress and basically they just got on with it and stuck to a very tight timeframe that we required.
Excellent job, thanks Darren."
– Sophie Martin & Michael Dennis, Windsor
"Darren/Beach Construction provided a quick, accurate estimate and completed the job to a high standard, on time and on budget while remaining flexible to changes throughout the project."
– Sam Doulton, Windsor
"Living in a Victorian property in the centre of Windsor we wanted to make the most of space and convert the loft into a bedroom/office area with ensuite shower room and toilet. It was important to us that the loft conversion felt like a natural extension of the existing living areas and that the work was carried out to a high standard. Darren Beach was able to offer good advice from the very earliest of meetings right through to completion of the job. I would not hesitate to recommend them."
– James, Windsor
"Darren and his team completed a large extension on the side of our house that bedroom, ensuite, kitchen and dining room. All the work was carried out professionally and to time. The team on-site were reliable and trustworth with professional plumbers and csarpenters brought in to complete the work. They could not have been more accomodating to our needs.The work was completed to a high standard and were are very pleased with the final finish.
We would recommend Darren to all of our friends."
– Stephanie, Windsor
"I would recommend Beach Construction to anyone, Darren and his team are friendly, approachable and hard working. I trust the team and are happy to leave them the run of my house, they all respect it. I like the way that Darren has a good eye for design too, he always knows when I might not like something and endeavours to make me as the client happy even if we digress from original design.
Beach Construction is always my first choice builder."
– Mrs Paice, St Leonards Hill, Windsor