We aim to make sure we deliver work of the highest standards, quality craftsmanship and professionalism on every project regardless of size or scale.
Passion
Every project is undertaken with the same level of commitment and passion – whether it be minor insurance work or constructing a brand new house.
Experience
As a family-run business, Beach Construction has a wealth of knowledge and experience delivered by a strong team of dedicated craftsmen.
Quality
All our work is delivered to the highest quality and is fully guaranteed.
Integrity
We are honest and ethical in all our relationships, ensuring we maintain our hard earned and excellent reputation.
Service
with an experienced, hardworking team, meticulous planning and close attention to detail we deliver the highest standards ensuring your project is completed on time.
Value for Money
Whether it is a small or large scale project we ensure that we deliver the best possible results at competitive rates whilst helping our customers maximise the best return on investment.
Our Story
We are very proud of what we have achieved in our 25 year history. Our traditional family company values ensures we deliver high quality workmanship, fair pricing, and a caring and professional customer service enabling us to generate a large proportion of our new business through client recommendations.
This approach means all our customers get the advantage of our years of experience, recommendations and advice throughout every stage of a project from design, planning, drawings, all building works, and utilities connections. We project manage all of the work; liaising with planners, architects, designers, health & safety and tradesmen as required.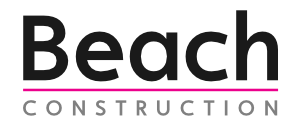 With over 30 years' experience in the construction industry, Managing Director and Owner Darren Beach oversees and co-ordinates all activities across each project. With his hands on approach, meticulous attention to detail, innovative problem solving capability, strategic thinking and daily project assessments at every stage of the build, his input is the key to project completion on time and on budget. His personable and friendly nature see him creating close relationships with clients, surveyors and sub-contractors, who trust his judgement and opinion.
References
We know you need to know more about us so we are very happy for you to talk to our customers.
Our customers are our most important advocates giving you a great insight into how we work. Please call us and we can arrange for you to talk to them or read some of our recent testimonials.
Quotes
We are happy to discuss new project requirements and provide free quotations.
So, whatever your building and construction requirements might be, get in touch with us, and we will work with you to create a solution tailored to suit your exact needs and budget.